Chinatown Cares Grocery Delivery Program
In March 2020, due to increasing concerns around the potential for community transmission of COVID-19 and rapid changing food access in the neighbourhood (grocery stores and restaurants closing or operating with limited hours due to the pandemic), the Chinatown Cares project was developed as an emergency response program to ensure access to affordable, fresh, culturally appropriate groceries for isolated Chinese-speaking seniors.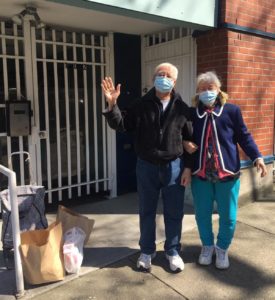 The need for such a program was assessed at a community level, and builds on food justice, racial equity, and mutual aid frameworks, among many others. This program aims to provide a test bed for long-term sustainable operations that are scalable and adaptive to community needs, foregrounding dignified access and community appropriateness.
As the Chinatown Cares project operates alongside the official Provincial Government reopening of non-essential retail and services, there is a need to recognize that prioritizing economic recovery does not necessarily align with the pace of community recovery and individual health, particularly for those communities who face additional challenges and barriers around mobility and access, as well as increased risk factors during a global pandemic.
Further learnings and reflections on our experiences building and operating the program can be found in the Grocery Delivery Program – Project Documentation / Resource Guide, prepared June 2020 by Project Manager Christina Lee.
We are grateful for the support of many organizations and individuals within our community for their contributions to the development of this project.
Project Collaborators:
Justin Fung
Mike Tan
Janice Leung
Doug Chang
Contributors:
Many thanks to the 400+ community members who contributed to our GoFundMe campaign, and provided in-kind donations of Personal Protective Equipment (PPE) to our staff, volunteers, and seniors.
Media mentions: